MKV to DVD: Come Convertire MKV in DVD, copiare MKV su DVD?

Come Convertire MKV in DVD, masterizzare MKV su DVD?
Programma necessario:
Step 1: Scarica il programma MKV to DVD Converter. Installalo e avvialo.
Step 2: Inserisci un DVD vuoto.
Step 3: Importa il file video MKV nel programma. Clicca il bottone "Add Video Files" per caricare il video MKV.
Nota 1: Questo MKV to DVD Converter supporta fino a 99 video caricati.
Nota 2: Clicca sul file e scegli il metodo di visualizzazione: Letterbox, Pan e Scan e Full Screen.
Step 4: Aggiungi Sottotitoli e Traccia Audio.
Per aggiungere sottotitoli clicca sul bottone "Subtitle" e seleziona il file con i sottotitoli dal tuo computer.
Per aggiungere la traccia audio invece clicca il bottone "Audio" sulla toolbar e seleziona il file audio dal tuo computer.
Step 5: Modifica il menu delDVD. Apri il "Menu Edit" cliccando su "Edit" sul pannello del Menu.
Nel programma sono già presenti tanti modelli (templates) pronti da usare e classificati per tipologia.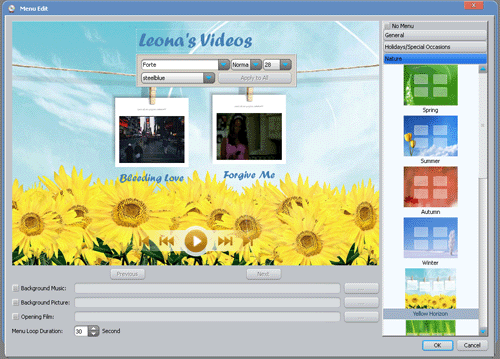 Nota 1: Per modificare lo stile, colore, titolo fai doppio click sul template.
Nota 2: Puoi anche impostare una musica di sottofondo o un immagine come sfondo.
Step 6: Imposta la conversione MKV in DVD o da MKV video in DVD folder e ISO image file.
Per salvare in DVD folder o ISO file, basta scegliere"Save as DVD Folder" o "Save as Image (.iso)".
Step 7: Imposta lo Standard TV e Video Aspect Ratio. Scegli "Tools -> Settings" dal menu e seleziona lo standard TV e la risoluzione del video.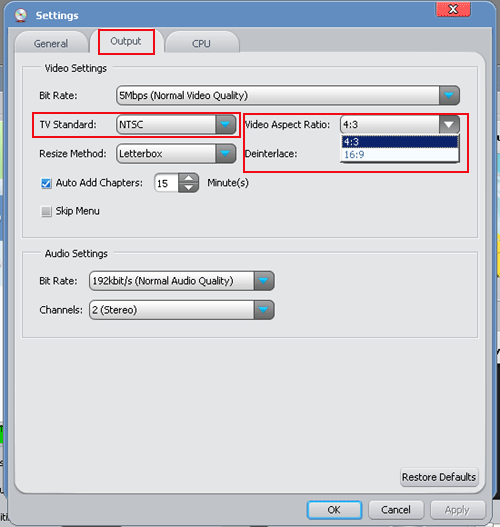 Step 8: Avvia conversione MKV in DVD.
Cliquez ici "Burn" per avviare la conversione e masterizzazione da MKV in DVD.
OK, fatto.